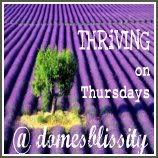 Hello, and welcome to another week of Thriving on Thursday. This week's edition is being brought to you by the sunny Queensland coastal town of Coolum Beach, about an hour north of Brisbane, our capital city. A lovely place that I've frequented many times over the years. I hadn't been here for a little while and was disappointed to see they had sold out to McDonalds. At least there's still no high rise buildings dotting the shore line. Its still unspoilt and pristine, just the way I like it.
I won't rub it in anymore. Let's get down to business. Less than 2 weeks to Christmas. Are you organised? Have you been enjoying the last two week's roundups of fantastic Christmas inspiration? Don't forget to link up your Christmas projects today to be featured in a round up this Sunday evening. Now, here's my non Christmas top 3 food and non food posts from last week's party.
Thanks to everyone who linked up last week. It was just wonderful. Feel free to grab a 'featured' button from the drop down menu from above. I look forward to seeing all your Christmas posts and hopefully will be on time with publishing the post. Let's party!