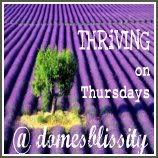 Welcome to another week and Thriving on Thursdays. A place to find heaps of fantastic recipes, crafts, tips and advice, all to help us thrive from day to day. I was so glad to send my children back to school from just over 2 weeks vacation on Monday but as much as I love the peace and serenity, the mad school rush gets to me. Here we are, Thursday already, and I haven't got anything done like I've wanted to. The week has just flown by with appointments and ducking out here and there. Hopefully next week will be more productive.
This Saturday, the 25th April, is one of the most revered and honoured holidays in Australia. This year we commemorate the 100th anniversary of the landing of the ANZAC soldiers on the shores of Gallipoli in World War I. We give thanks to the service men and women who have served in every conflict since. A time to remember. Lest we forget. Here are my top 3 food and non food posts from last week's party.
FOOD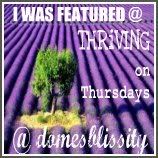 Thanks again everyone for linking up each week. I really do appreciate it and enjoy seeing every single one of your posts. If you were featured, please feel free to grab a 'featured' button. Now, onto this week's party. Let's see what you've been up to.