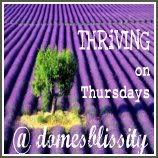 Welcome to another week of Thriving on Thursdays and finally, I think I might be back to running on all cylinders. My goodness gracious. I have been lucky to enjoy good health these last couple of years, except for the odd head cold but I really was struck down with something severe last week. The doctor said I had developed bronchitis. It's gone through the house, knocking every one down (except Damien). High fevers, terrible cough, aching joints just to name a few of the symptoms. I was lucky to have Damien around to ferry the kids to and from school and wait on me. Needless to say Mount 'Washmore' needs to be tackled along with the other general household duties.
We're one week into a two week school holiday break. I was lucky to have a one on one 'date' with each of my children which was something I hadn't done in such a long time. It's so refreshing to interact with them as little people now and listen to their opinions and views on the world. My daughter has an opinion on everything and is quite the expert. (I wonder where she gets that from.) Hopefully it'll be something I can get to do more often. My man Damien is so brilliant that he lets me do this. Now that I'm feeling well, it's back into finishing off wedding craft and the next big job will be to give the garden a good going over. Great time of the year to do it now that it's a bit cooler. Now, onto last week's party. Here's my top three food and non food posts from last week.
Thank you so much everyone for linking up each week. There truly is a bunch of gifted talented people out there in the world. I love seeing each and everyone of your posts and wish I could feature them all. If you were featured, please feel free to grab a 'featured' button from above. Now let's see what you've been working on this week and HAPPY 4TH OF JULY to all of my US friends!